Th

e California Road Trip,

Part I
San Diego Bay. Photo credit: Joshua Franzos
A philos

opher of an

Israeli tour guide once told me, on top of Masada while the sun beat down upon our skulls, "Those annoying things that happen

when traveling, the car breaks down, you miss your flight, a smelly person sits next to you on the bus...it's ALL part of the experience..." Travel can't, well...shouldn't be compartmentalized. It's a sum of all those parts, the good

and the could've done without,

that add up to something more.
I had some unfinished business in California. I had to go back. Immediately

, as

I'm in the steep downward slope of finishing the first draft of my first novel. I have roughly six chapters left to write and there were a few motels, restaurants, and a large section of the Golden State that I missed on my first three sweeps. Fourth time's a charm, Ho Ho No. No it's not. Truth be told, I could ramble around the state in a rental car forever. The thrill of the open road, man, I'd spike it into my vein if I could, but it wouldn't be the same if I couldn't see a

desert

highway mirage with my own two eyes.

And so

t

he res

earch

road trip was plotted out, pen on paper, with my scribble grade handwriting. Excited longhand. We'd fly into San Diego. We'd hop in a car, I'd show Josh the abridged version of the one trip he didn't accompany me on, and then we'd venture into uncharted terri

tory, the

s

prawling

countryside between

San Diego and Palm Springs.
I travel like I approach outlining a novel. Writers are generally divided into two categories. "Pantsers" i.e.

write

by the seat of your pants see where you end u

p and then there are

"Outliners." There is no right or wrong way. I pantsed at the beginning

.

Everyone

's

process is unique and completely valid

. Writer Stephen King doesn't outline.

There are key things that need to happen in a s

tory

. Hooks, plot points, pinch points, first acts, third acts. Some storytellers have an instinctive sense for these things. I'm just learning the craft and feel more comfortable and ON TRAC

K with an outline.

Unlike a pantser, I already know all of these things and how the s

tory

will end

. B

ut w

hat

I don't always know is how the characters will get there. In writing and in travel, I don't spell everything out to the minute. I commit the most important

milestones

to paper and leave room for expl

oration.
J

osh and I

have traveling down now. W

e

like to leave Pittsburgh early so

we

can land and h

ave more of the day to explore

. I woke up at 3am and pulled on a romper and my Vivienne Westwood pirate boots. I think there are six buckles on each leg...a dangerous idea in the security line of an airport, but I kid you not, with a little

pro-activeness

on my part, the boots turned out to be an excellent way to Win Friends and Influence People. (They also look great with everything I packed - so you'll be seeing them a lot in this multi-part bl

og series

).
O

ur flight left at 5:10am.

We flew Southwest for the first time. They do things differently. They don't do things like any other airline

we

've traveled and it was for that reason that Josh and I didn't sit next to each other for six hours.
😑

It's all part of the experience. I also wore a panama hat on the plane because I couldn't figure out how to

p

ack it without squashing it. Since I wasn't sitting next to my husband, I perched my hat over my face and took a nap. Just like in the

movies.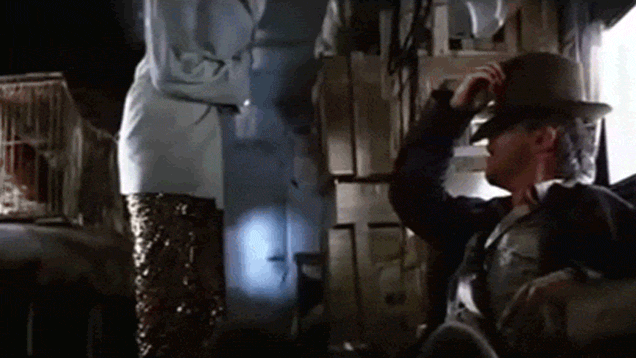 Gif via PonAdidas
We landed around 9:30am and got our rental car.

W

e stopped at the local AAA office and got some road maps before we met one of my father's best friends for lunch--He'd found me on facebook just a few weeks prior to my trip. I get

happily spooked by

coincidence

, but m

y main character scoffs at it.

Josh and I

met him at the

campy

Bali Hai - a tiki

restaurant

that's been open since 1954. It was my doing. The last time I ate there, two years ago, I tried their spam fried rice and world famous Mai Tai-the strongest drink I've ever h

ad.

The last time I saw

my father's navy buddy

was twenty years ago--you could say I'm

terrible at staying in touch, but I wish you wouldn't.

It was great to see him and get to know him as an adult. I

was happy to hear that he

enjoys retirement with exten

sive

reading, juggling grandchildren, advising important California officials

,

and judg

ing

BBQ contests around the country. We heard some great stories about my dad as a young m

an.

He also caught me up to date on some of my parent's other friends that still wonder about me. The people I couldn't bring myself to call when my mother passed away. You could say I dropped the ball on that, but I wish you wouldn't. I'd say I dropped that ball over a gorge and never expected for it to catch up to me again, but it did. I sat there feeling like the asshole that

I was.

The core g

roup of my

parents friends are still with us, some quite sick, but

most are

just your regular b

oomer-generation,

battered veterans of life

.

"Next time," he said, "Give me more time to round up more people t

hat would like to see you. You can even stay with us."

Reluctantly

w

e

said our goodbyes a

fter lunch

and then he showed us the way to the Coronado bridge. We set our gps down and tailed his tru

ck like lost people used to do, back in the day.



Hotel Del Coronado courtyard. photo credit: Joshua Franzos
Coronado is an island off San Diego. It is a navy town and very patriotic.

Coronado has

a main street, but it's called Orange Avenue. It doesn't take long to walk down it and find the

architectural

gem of Coronado,

the

19th century seaside resort, Hotel Del Coronado. The Wizard of Oz was written there.

Some Like it Hot was filmed there.

My father worked there as a teenager, as did

his friends.

It has a reputation for be

ing

haunted. My father said he saw some things he couldn't explain when he worked there late at night. My dad's friend scoffed

,

"Haunted

Schmaunted."

I stayed at the Del in 2014, just a few doors down from the haunted room

, but of course, I

didn't see anything when I was there.

Josh and I

breezed through the Del this time around

and

only

stopped for a drink. We sat outside, semi near the pool. Our expensive drinks came out in disposable plastic

cups.
😑

I just wanted

Josh

to have a taste of posh at the

Del

since we had other, more family

-

history

-

significant accommodations for the night, but it looks like I'm going to have to bring him back for

another go at that

. It's all part of

the experience.
Hotel Del Coronado lobby. photo credit: Joshua Franzos
Sea and Poolside at the Hotel Del Coronado. photo credit: Joshua Franzos
Hotel Del Coronado pool. photo credit: Joshua Franzos
Pool house at Hotel Del Coronado. photo credit: Joshua Franzos
Li

ke a Tom Wesselman painting.

Hotel Del Coronado. photo credit: Joshua Franzos
My father grew up in a small boarding house on Coronado called "The Cherokee Lodge." Starting in the late 19th century

/early 20th century, it

was a boarding house - a halfway alternative between the grandeur of the Del and the early 20th

century

glamping going on in Tent City. Three houses, two shotgun, were plopped on a barge and shipped over the bay and joined together to form the lodge. The Cherokee Lodge eventually became known as hous

ing

for the wives and children of navy men when they were shipped off to war. According

to the oral tradition of my father, t

he w

omen

and children lived together in each other's company, like a sort of a circling of wagons. (Note to self, potential new story idea)

.

Eventually my grandfather bought the lodge for the use of a single family, his.

T

he

lodge was sold in 1976

and after some years, t

he lodge once again became the modern day equivalent of a boarding house -- a Bed and Breakfast. My family has been staying at the Cherokee Lodge for many years. I marvel at the care and restoration efforts made by the

owner

, Ed Melvin. I mar

vel

at the

fact

that I can stay in

a

historical landmark where my family once lived. Seriously

, h

ow many people get opportunities like that? Coronado is a popular tourist spot in the summer

and t

he Cherokee

Lodge

books up quickl

y

. I tried to get a room a month out from our trip, and they were full

, e

xcept for one room. The room with

only a

trundle bed. A trundle bed is a fancy couch. It's the kind of room they would only offer to family and friends. To think someone would consider me a family or a friend...and here I'd received two offers in a m

onth.

My remaining family is so small and fractured across north America,

that

the casual l

uxury

of a couch

to sleep on

brings tears to my eyes. Couch sleeping takes trust.
Cherokee Lodge. photo credit: Joshua Franzos
front porch at the Cherokee Lodge. photo credit: Joshua Franzos
That evening Josh sat freshly showered, on the bottom trundle

.

I sat on the top trundle, blearly eyed

after a 20 hour day

. We held our plastic tumblers full of expensive whiskey and I patted my bare feet on his lap while we talked about the highlights of

the day.

We talked about our lunch with my dad's friend.

Josh

said something about, after so many trips to Califo

rnia, he was

peeling away the layers and getting more and more insight into the

personalities

of my parents.Then the whiskey took hold of me. I dared to imagine

what

it would be like to have lunch with my own father

as an adult. An awful lot like his friend I supposed. I burst into tears.

M

y husband

kissed

my knees and pulled me into a bi-level trundle bed em

brace

.
For many, California still flutters her false eye

lashes and alludes

to that age old promise of fame or fortune.

But f

o

r me,

t

here was no more pretense. Fresh out of preten

se.

No more wine and dine. It was fine with me, I've really only been seeking out the places that were mostly likely going to give me

an

authentic experience anyway

.

I could already tell that this trip to California was different than the others. When you're a frequent, reoccurring house guest, one day the hostess will be comfortable using her everyday china on you instead of the "good company

stuff

." She'll probably want you to wash your own dishes a

nd make your bed

once and a

while.

Hell, she might even pass gas in front of you. California, light of my life, fire of my loins

...she'd

gotten comfortable. I was family now

and

that meant I was going to see the good and the bad.
What I wore:
Romper: H&M, $9.99 on sale HERE.
Hat: Target, here.
Pirate Boots: Vivienne Westwood, currently out of stock but they get re-issued. Try ebay or 1stdibs
Bag: YSL
Your Bosom Friend in Pittsburgh,